Home Theater PC's – HTPC – and Android Streaming TV Boxes.
Here at Easy HTPC, our goal is to provide you with quality information for the various products available today. Home Theater PC's has always been one of my favorite subjects since Windows Media Center software was introduced. HTPC's have come a long way since then. Now, Android Streaming set top boxes have joined the fray. Some would have you believe that Android devices are not Home Theater PC. Well, they do have a processor, memory, storage, video, and audio output. Doesn't that put them in the same class as a pc? Anyway, we will be covering Home Theater PC's to Android TV Boxes, and everything in-between. Look around, check out some videos in the "How-To" Videos section, read articles, check out our reviews.
Thanks for stopping by.
Beelink GT King
example text here.

Nvidia Shield
example text here.

Amazon Fire TV
4.3 out of 5 Stars ⇑
Back in the 70s, film production companies were worried that home video will have people sitting glued to their tube screens instead of flocking the theaters. Say whatever you want to about the fad of VHS tapes of the 1980s but this has become the reality today. Thanks to Home Theater PC's, Streaming STB's, the Internet, home entertainment has become a surging tidal crest that is overwhelming all with virtually unlimited possibilities. And Amazon seems to be riding this wave with real bravado. With Amazon Prime now on everyone's smartphone or tablet, people can watch their favorites among latest content in films and TV shows.
So, as a wrapped up gift for those who wish to transplant this personalized experience to the TV screen, Amazon has come up with Fire TV, a media streaming set top box that allows you to watch your Amazon Prime playlist on the tube. Is it yet another sure-fire product or just a fanciful idea? Let's find out.
Features And New Frills
Since looks matter first and foremost, Amazon Fire TV is a pretty slick package. The black, svelte color looks absolutely smooth and it is refreshing to see a TV compatible media player that looks less chunky than your average streaming set top box or D2H device. The wonderfully flat and sleek square shape is complimented with an equally slinky looking remote control and adapter. Plus, if you like to cozy up in your neat and nifty living room for watching your favorite films and shows, the basic, no-frills design adds a lot of personality to your experience.
The Media Player comes with a quad-core MediaTek processor. It comprises two dual-core chips, one which runs at 2GHz and the other at 1.6GHz. Now, the combined result of this is that this version of Fire TV will deliver 75% faster output in terms of streaming speed. In case you wish to dig out your gamer side with real chops, there is a PowerVR GX6250 GPU for a seamless gaming experience. The 2GB system memory is also perfect for a totally smooth content experience.
Storage freaks, who wish to keep all their favorite content handy, can be delighted to know that the Fire TV has a reasonably good internal memory
capacity of 8GB. This can be further expanded to a total of 128GB, thanks to the makers who thought it cool to add a MicroSD slot on the back of the device.
The 4K Factor
4K experience is all the rage among TV watchers for the last few years. High-definition 1080p streaming is now an option for users of this streaming set top box for video apps like not only Amazon Prime but also Netflix, YouTube, Hulu and other websites. The good thing is that you do not need a 4K resolution TV to enjoy all features.
However, there is a bit of a clinch here. Your TV should have some basic criteria to be compatible wholly with Fire TV. For smooth UHD playback, your TV should have the basic 3840 x 2160 panel resolution as well as a basic HDMI 2.0 connection. If your TV does not have these simple and essential features, you will not be able to watch Netflix or even Amazon Prime. YouTube will work, though.
Software And Apps
If you thought that iOS and Android were the only driving force in software for devices and gadgets, Amazon is not behind in this respect. FireOS is a pretty nifty addition and it has an easy-to-use interface that allows you to browse and select your choice of content to play. However, while everything works great in this case as well, there is
again something to be aware of.
Like any Apple OS, FireOS is one that is quite openly biased towards only Amazon-related content. This means that you can browse and select solid choices of content from Amazon Prime only. Don't get me wrong; it has got catalogs from Netflix and Hulu as well but the bias is kind of obvious and in any case, you need to have an Amazon Prime Membership around the corner.
Thankfully, one of the new improvements in this streaming set top box is that the Voice Search feature has undergone some major enhancements in providing results. There was a time when searching for a particular movie could lead you only to exclusive Amazon content. Now, if you use this feature, you can find your way to some of the lesser known content recommendations from a Netflix playlist.
Performance And Playback
The selling point in all the advertising communication for the Fire TV is that it provides a uniquely 4K UHD playback experience. The home screen interface looks neat and the opening video tutorial is still fun enough. As for the actual experience of watching films and shows, the 4K feature works spectacularly well but this was after all expected from Amazon. What is an even better surprise is how well the Wi-Fi remote control works. However, if you end up flicking too many channels, the experience can become just a bit patchy but you may end up missing this minor snag because everything else is so cool. Yeah, even Netflix content plays fast and furious, especially on a solid Internet connection.
Quick Overview: Pros
Okay, to sum it up, buying the new Fire TV makes a lot of sense. The 4K UHD playback works wonders and you actually get sucked into the pleasures of superb resolution even on a normal TV. The whole system is pretty responsive. And the reasonably good alternatives in choosing content also make it a worthy addition as a streaming set top box for your TV set. The hardware, software and controls are also top-notch.
Cons
The biggest downer could be the fact that Amazon Prime membership is a must-have for using this device. There are also the occasional glitches in browsing and flicking through the content available on the screen.
The Verdict
With Amazon becoming the mainstay in everything, from e-commerce to entertainment, there is no reason why you should not buy the Fire TV for a personalized and professional content experience. Just be sure that you are already an Amazon geek to begin with. If you already have a Amazon Prime membership, Fire TV is a no-brainer. For the price, it is possibly the best media player/streaming set top box reviewed.
Best PC's you can get fairly CHEAP!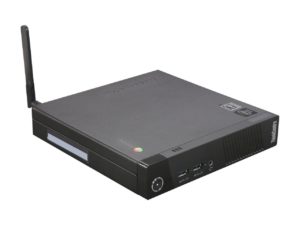 Lenovo ThinkCentre Chromebox Intel 3205U 4GB 16GB SSD OS Tiny Desktop Computer.
4.3 out of 5 Stars ⇑
Lenovo ThinkCentre Chrome box device is a device which has an Intel processor. It is a Desktop Home Theater PC with flexible mounting solutions, which includes the support of VESA mounts that takes manageability, productivity, and efficiency to the next degree.
This Chromebox can be transformed into a 23 inch Chrome OS AIO with its ThinkCentre Tiny-in-one (TIO) that bids a simple tool-less setup with the negligible wiring. The advantage of this ThinkCentre Chromebox desktop is that it can be placed ubiquitously in any chosen place, together with its all fixtures which include the clamp support, the under-desk base, and the VESA support.
Lenovo ThinkCentre Chrome box has HD graphics which shows the clear output of its screen which displays images in high definition mode. Lenovo ThinkCentre Chrome box desktop has the display ports of 1 — HDMI, 1 — Display port. Besides the processor, Lenovo ThinkCentre Chrome box desktop has a hard drive of 16GB SSD, and a Random Access Memory of 4GB DDR 1600MHz, which works together with a Chrome Operating System. Furthermore, Lenovo ThinkCentre Chrome box desktop has the dimension of 7.0 — 7.2 — 1.4. It has a medium size which is also portable. Its weight is 2.1Ibs. It is user-friendly and cannot cost any much expense regarding transportation, because of its weight and dimensions.

ZOTAC B Series BI325 N3160 Quad Core CPU Mini PC with Windows 10.
3.8 out of 5 Stars ⇑
ZOTAC B series BI325 N 3160 Quad Core CPU Mini PC is a personal computer which has windows 10 installed in it.
Its capacity is 32GB SSD, with a Random Access Memory of 4GB. This devices has a dimension of 7.4 — 7.4 — 1.7 inches. The maximum weight ZOTAC B series BI325 N 3160 Quad Core CPU Mini PC is 3 pounds. Furthermore, this device supports a 3 display outputs which are the HDMI, VGA and the DP. ZOTAC B series BI325 N 3160 Quad Core CPU Mini PC is powered by the new Intel Braswell processor which defines its power consumption and the performance.
Therefore, ZOTAC B series BI325 N 3160 Quad Core CPU Mini PC meets Home Theater standards for entertainment since it streams HD display graphics. ZOTAC B series BI325 N 3160 Quad Core CPU Mini PC offers large performance in terms of web browsing, emails and all the internet services. Besides that, ZOTAC B series BI325 N 3160 Quad Core CPU Mini PC supports Wi-Fi and also Bluetooth connections for the exchange of information.
According to the reviews made by different people, ZOTAC B series BI325 N 3160 Quad Core CPU Mini PC works in perfect condition with its all features satisfying the users.